Affordable, accessible private eye care
Using our wide network of eye consultants and optometrists, we help you to receive the care that you need, when you need it. You choose your consultant to monitor your condition and an optometrist to carry out your OCT and visual field tests. No long waiting times or cancellations. Flexible booking and continuity of care seeing the same consultant each time allowing you to continue to do the things you love.
The OcuPlan Process
No long waiting times. Hassle free eye care from OcuPlan.
Once you've signed up, your welcome pack will arrive. This includes the details of your optometrist, consultant and your OcuPlan package.
The welcome pack also includes your membership card. Your consultant and optometrist will scan the card each time you visit them.
Once your welcome pack has arrived, you can call your optometrist and arrange a time that is suitable for you.
4. Your Optometrist visit
At this appointment your optometrist will conduct a visual field test and an OCT scan. This information is then passed automatically to your Consultant.
5. You Eye Consultant visit
You can then book an appointment with your consultant who assesses you and your needs and offers advice on managing your eye condition.
From that point onward you'll see your consultant and optometrist once, twice or three times per year depending on your care package.
Signing up
We've made signing up as effortless as possible.
Sign up online or call us and we'll set you up in two minutes. Here are the 4 simple steps we'll take you through:
1. Select your Optometrist
Choose your preferred local optometrist who will perform your OCT and visual field tests in their practice
2. Select your Consultant
Choose your private eye consultant and their private clinic
3. Select your membership package
Choose up to three sets of appointments each year. Choose annual or monthly payments
4. Enter your details
We'll ask for your name, address, contact number and payment details so that we can start your monthly or annual subscription
Need help or want to know more?
Would you like more information on OcuPlan to read at your leisure? Our printed Home Packs include all the information you need to understand how OcuPlan works and how we help people to preserve their vision. Order one for free today.
If you'd like to learn more about OcuPlan from the comfort of your home, we'll deliver a home pack that includes all the information you'll need to learn how OcuPlan can help you.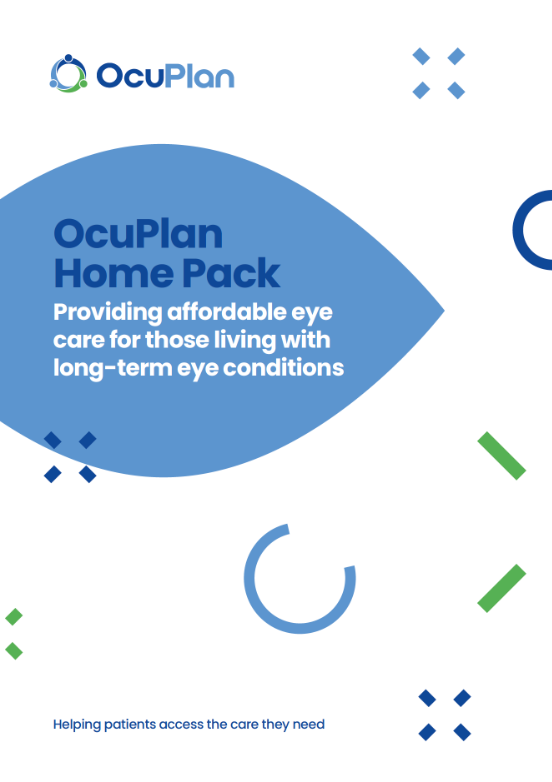 Not sure if OcuPlan is the right choice for you?
Our support team can answer your questions
What our patients say about us
With 97% of patients choosing to stay with us every year and only ever 5 star reviews we must be doing something right. But don't take our word for it.
I have been extremely impressed with every aspect of treatments by all staff, they really do care.
Dorothy Packard
OcuPlan allows me to access private consultancy for very little money and means I am not dependent on the NHS.
Stephen Moylan
Easy to use and cost effective way of funding eye care.
J Oldham